NEW
SkiRental Ski Bar
one of the most proficient and certified places to hire, store and service all of your ski and snowboard equipment...
gallery
Skiing in Badia - Welcome to winter's paradise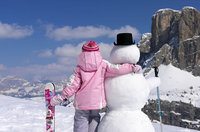 Guaranteed snow and breathtaking descents - allow yourselves a relaxing winter holiday in Alta Badia! Many activities on the snow, lots of fun and joyful evenings in our traditional mountain huts.

There is plenty of fun to be had in the mountains, but if you want an unforgettable dream holiday, choose
Alta Badia: a skiresort of wonder in the heart of the Dolomites, a UNESCO World Natural Heritage Site, which are located in the north-eastern part of Italy. Magnificent views around, 450 uphill facilities, 1,200 km of perfect slopes, prepared daily, 8 days of sunshine out of every 10, and for food lovers, gastronomic delights from five different cultures and traditions of fine cuisine: Tyrolean, Ladine and Mediterranean. You couldn't find a more intense way to spend the winter. A mountain of wonder, dreamed of by many from the summer onwards.
Skirent
We offer You a 20% discount in our Skirental in San Cassiano. SkiRental SkiBar is positionated near to the cablecar Piz Sorega - www.skirental.it
Skischools
Several schools with professional instructors offer private and group lessons to improve your safety, style and technique on skis. Many offer snow kinder-gardens and playgrounds for the younger ones. More information on the ski schools of Alta Badia are available from the Tourist association website .